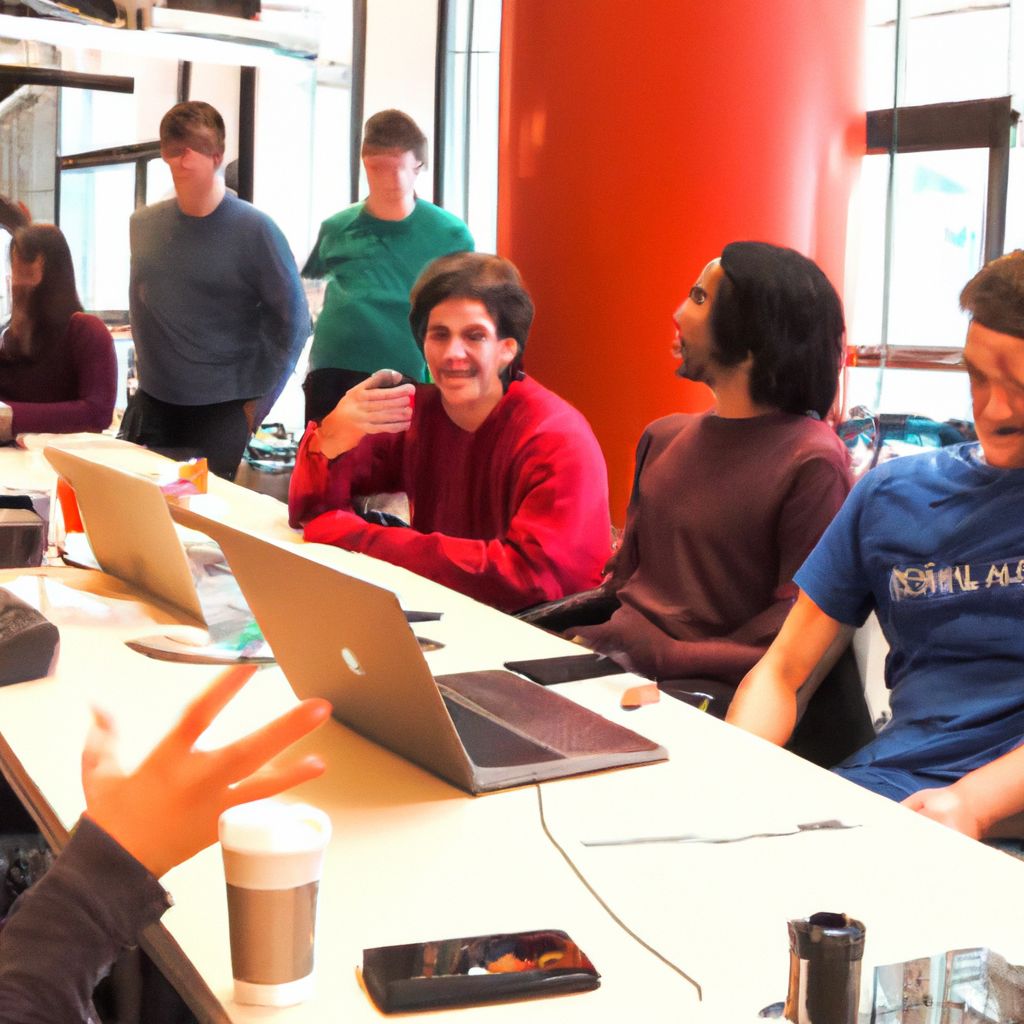 Key Takeaway:
Consider factors such as company culture, growth opportunities, and work-life balance when evaluating the best FAANG companies to work for.
Google offers a competitive salary and benefits package, and is known for its innovative work environment.
Apple provides unique opportunities for personal and professional development, and focuses on creating cutting-edge technology.
Amazon offers a fast-paced and challenging work environment, with opportunities for career advancement.
Netflix is known for its inclusive and creative culture, and offers competitive compensation and benefits.
Facebook provides a dynamic and collaborative work environment, and offers various perks and opportunities for growth.
Consider the compensation and benefits packages offered by each FAANG company, and weigh them against personal preferences and needs.
The hiring process and difficulty may vary among FAANG companies, so it is important to research and prepare accordingly.
In conclusion, the best FAANG company to work for depends on individual preferences and career goals, but factors such as company culture, compensation, and growth opportunities should be considered.
The FAANG companies, comprising of Facebook, Amazon, Apple, Netflix, and Google, are some of the most sought-after workplaces in the tech industry. In this section, we'll provide an overview of these influential companies and highlight what sets them apart. We'll also discuss the factors to consider when evaluating the best FAANG companies to work for, giving you valuable insights into making an informed career choice in this dynamic and competitive industry.
Overview of FAANG Companies
The FAANG companies – Facebook, Apple, Amazon, Netflix, and Google – are some of the biggest and most influential tech giants on the planet! They each have their own unique strengths and services that set them apart. When looking at these companies, consider factors like their market presence, innovation capabilities, financial performance, and overall impact on the industry.
Facebook is a social media giant with billions of active users worldwide. It revolutionized communication and connectivity, providing services like Facebook Messenger, Instagram, and WhatsApp. Apple is renowned for its sleek and innovative hardware products, such as iPhones, iPads, Macs, and AirPods. Its software development capabilities, such as iOS and macOS, are also top-notch.
Amazon disrupted traditional retail by offering a wide range of products online. Plus, it has services like Amazon Web Services (AWS), Kindle e-readers, and Prime Video streaming platform. Netflix is a leading provider of on-demand streaming services globally. It produces its own content, as well as licenses popular TV shows and movies.
Google dominates the search engine market. Its ecosystem includes products like Google Search Engine, Gmail messaging service, Google Maps navigation app, YouTube video-sharing platform. These five companies stand out thanks to their cutting-edge solutions and global reach. Even though they all operate in different tech sectors, they can all be credited for helping shape today's digital landscape.
The influence of FAANG companies extends to various aspects of daily life – communication (Facebook), productivity (Apple), online shopping (Amazon), entertainment (Netflix), and information access (Google). Thus, they hold a key role in shaping the future of technology. Their ability to anticipate trends, quickly adapt to market demands, and consistently innovate ensures their status as tech leaders.
Those looking to work with FAANG companies should focus on gaining expertise in areas relevant to each company. For example, data analysis or machine learning for Google, software development for Apple, digital marketing for Facebook, etc. Keeping up with industry trends and updating skills is also important. By matching one's skill set to the specific needs and requirements of each company, they'll have an edge over other applicants.
Choosing the best FAANG company is like choosing a favorite child – but these children can afford to buy their own islands!
Factors to Consider in Evaluating the Best FAANG Companies
When it comes to assessing the top FAANG companies, there are several factors to consider. These include:
Market Dominance: Companies like Amazon and Google own a large portion of their respective industries – this is a sign of their competitive edge and power to shape consumer behavior!
Financial Performance: How successful a FAANG company is can be seen in its revenue and profitability. Apple is often high in these rankings, showing their strong market position.
Innovation & Tech Advancement: Look at the level of innovation and tech progress of FAANG companies. e.g. Google has consistently improved its search engine algorithms and product offerings.
Global Impact: FAANG businesses have a global presence, so it's important to see their global effects. For example, Amazon has had a big economic impact by expanding into overseas markets, while Netflix has changed entertainment consumption worldwide.
Talent & Culture: It's key to check out the company culture and talent pool when choosing a FAANG company to work for. Facebook, for instance, values top engineering talent and encourages an inclusive and diverse workplace.
Customer Satisfaction: Last but not least, customer satisfaction is a major factor in the best FAANG company. Apple puts a lot of effort into user experience and product quality, which is reflected in its high ratings.
These elements all contribute to evaluating and understanding what makes a FAANG company exceptional. It's important to consider them carefully when deciding which FAANG company best fits your goals and aspirations, while also having a positive impact on society.
Comparison of Each FAANG Company
When comparing the FAANG companies, we can gain valuable insights into the different aspects that make each company unique. Let's explore the distinctive characteristics of Google, Apple, Amazon, Netflix, and Facebook. From their innovative technologies to their market dominance, this comparison will shed light on why these companies are highly sought after by job seekers in various fields.
Google
Google's success? It's all down to their commitment to user experience and constant innovation. They provide accurate search results, making them the favourite for millions. Plus, Google's Android OS has a big chunk of the mobile market.
As an employer, there are loads of benefits. Free meals, wellness programs, and parental leave – it's all there. It's a collaborative workplace that encourages creativity and personal growth.
The hiring process is rigorous and selective – technical and cultural skills are assessed. This ensures that everyone who joins the company shares the same values of innovation and problem-solving.
So, Apple isn't just about fruit – they're a tech giant too! Get ready to go 'core' crazy!
Apple
Apple offers revolutionary products like the iPhone, iPad, and Macbook, which have completely changed the way we live and work. They've achieved this by combining hardware, software, and services. Apple stands out for its focus on protecting user data, with features like Face ID and encrypted messaging.
This strong commitment to privacy has gained the trust of customers from all over the world. Furthermore, Apple's premium quality and sleek design aesthetics have created a passionate customer base that ensures the company remains at the top of its industry.
Apple also invests heavily in research and development to stay ahead of competitors. By continuously exploring new technologies, they remain a leader in the tech sector. If you're looking to work with the latest technology, innovate groundbreaking products, and join a company renowned for its privacy and design standards – don't miss your opportunity to be a part of Apple.
Amazon
Amazon – an e-commerce giant, boasts massive annual revenue of $280 billion (2019). It offers a huge range of products & services – streaming & cloud computing (AWS). Employees are treated to comprehensive benefits – healthcare, retirement plans & discounts.
Pro Tip: Applying to Amazon (or any FAANG firm) comes with a robust process – multiple interviews & assessments. Showcase your skills & abilities at each stage for greater success.
Netflix
Netflix is widely renowned for its streaming platform that offers a plethora of movies and TV shows for subscribers. It has made an impressive impact in the entertainment industry by creating its own exclusive content, which includes award-winning series.
Employees are guaranteed a positive working atmosphere and are rewarded with competitive compensation and benefits packages.
Furthermore, Netflix has been successful in adjusting to the ever-changing market trends and consumer desires. It continues to invest in new tech and inventions to advance its streaming platform and sustain its status as a leader in the sector.
Facebook
Facebook has revolutionized communication! It's a platform where people connect, share their lives and more. It offers features and tools for creating profiles, sharing posts, photos, videos and connecting with loved ones. Additionally, businesses use its advertising platform to reach their target audience.
Facebook has made strategic acquisitions such as Instagram and WhatsApp, broadening its reach in the digital world. Plus, it's constantly investing in research and development to keep up with technology advancements.
However, the company has faced controversies related to user privacy and data security issues. Despite this, Facebook still stands strong in the social media sector.
It's worth noting that Mark Zuckerberg founded Facebook with his college roommates Eduardo Saverin, Andrew McCollum, Dustin Moskovitz, and Chris Hughes.
Compensation and Benefits
FAANG companies focus on Compensation and Benefits to attract and retain top talent. They provide employees with a comprehensive package, including:
Competitive Salaries benchmarked against industry standards.
Performance-based Bonuses, tied to individual or team accomplishments.
Stock Options – to share in the company's success.
Health & Wellness Programs – health insurance, gym memberships, mental health support etc.
Retirement Plans – such as 401(k)s.
Employee Assistance Programs – for financial planning, child & elder care etc.
Plus, additional unique benefits like flexible working, professional development, free meals, on-site fitness and transport. All of this shows their commitment to creating a positive work environment.
Hiring Process and Difficulty
The hiring process at FAANG is tough. To get a job, candidates have to go through various rounds of interviews and assessments. Worldwide, top talent competes for few openings so the competition is fierce.
Technical interviews are a must. Candidates are tested on coding, problem-solving and skills. Behavioral interviews check if they can work in a team, manage stress and show leadership. Case studies and projects judge their ability to solve real-world challenges. Cultural fit in the organization is also considered as FAANG values diversity, inclusion and collaboration. In the end, only the best make it.
FAANG companies invest lots of time and money for background checks. Onboarding processes are well-defined to smoothly welcome new employees and provide them with resources.
John, an aspiring software engineer, faced the hiring process. He went through technical and behavioral assessments. In the final round, he was given a hard coding problem. John stayed calm and focused, showing problem-solving skills and determination. Impressed, the company offered him a job, recognizing his talent and potential. This story shows the level of skill required to succeed at FAANG.
Conclusion
'Best faang companies to work for' reference data shows why these firms are so desirable for employment. Facebook, Amazon, Apple, Netflix, and Google are popular for their exceptional work environments, employee benefits, and growth potential. Their innovative cultures, tech, and global reach draw top talent from around the world. Competitive salaries, perks, and work-life balance make them preferred by job seekers in the tech industry.
Facebook offers its workers a supportive and collaborative setting that encourages creativity and personal/professional growth. Amazon is known for its customer focus, innovating and striving for excellence. This mindset is part of the culture, appealing to those who want to make an impact.
Faang companies prioritize employee wellness, like Apple, Netflix, and Google with complete benefits packages, healthcare, parental leave, and flexible work arrangements. Plus, mental health programs and support networks.
In a competitive job market, faang companies stand out due to their efforts to create a diverse workforce. They value different voices and backgrounds to fuel innovation and success. This encourages a collaborative, groundbreaking work culture.
It's no wonder faang companies are the preferred choice for those seeking to make their mark in the tech industry. Their attractive work environments, benefits, and commitment to employee well-being and diversity make them highly sought-after employers.
Some Facts About the Best FAANG Companies to Work For:
✅ FAANG companies, including Facebook, Apple, Amazon, Netflix, and Google, are some of the top-paying tech companies in the world.
✅ The highest-paying tech jobs in FAANG companies range from director-level positions to software engineering roles.
✅ FAANG companies have a combined stock market capitalization of approximately $5.6 trillion.
✅ Google is considered the best FAANG company to work at, according to employee ratings.
✅ Compensation at FAANG companies includes not only base salary but also bonuses and stock options, which can significantly increase earnings.
FAQs about Best Faang Companies To Work For
Question 1: What are the best FAANG companies to work for?
Answer: The best FAANG companies to work for are Facebook, Apple, Amazon, Netflix, and Google. These companies offer competitive compensation packages, cutting-edge technologies, and lucrative job opportunities.
Question 2: Do FAANG companies offer remote work options?
Answer: While not all FAANG companies offer remote work options, some like Facebook and Google have certain job categories that allow for remote work. It is important to carefully read job listings and research each company's stance on remote work before applying.
Question 3: What are the highest paying tech jobs in FAANG companies?
Answer: The highest paying tech jobs in FAANG companies include roles like Director of Engineering at Netflix, Vice President of Engineering at Google, and Senior Open Source Software Engineer at Netflix. These positions come with competitive compensation packages.
Question 4: What skills are in demand for software engineering jobs in FAANG companies?
Answer: In 2023, employers are looking for software engineers skilled in machine learning, data analytics, and web development. Having expertise in programming languages, knowledge of cloud platforms and distributed systems, and strong communication skills are also sought after.
Question 5: Which FAANG company is considered the best to work at?
Answer: According to employee ratings, Google/Alphabet is considered the best FAANG company to work at. It has a positive work culture, offers remote work options in certain categories, and maintains a good work-life balance overall.
Question 6: How can I advance my career in the tech industry by working for a FAANG company?
Answer: Working for a FAANG company can provide opportunities for professional achievement and growth. To advance your career, focus on acquiring in-demand skills, gaining engineering experience, and staying updated with the latest technologies. Additionally, staying informed about FAANG job listings, policies, and procedures can help you navigate the hiring process effectively.